Pendants - Indochinite - tektite - Description language - Polski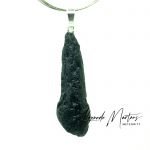 Pendants with black tektites - indochinity from the Song Hinh area in Vietnam.The weight of the pendants is from up to 15 grams, the eye is made of silver 925/1000.
There are various shapes of tektites from disks to drops. Each piece is original.